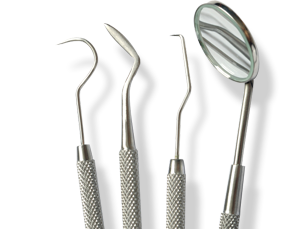 Testimonials
"The hygienist who cleaned my teeth was amazingly thorough, no one has ever spent that much time on me, plus there were no lectures or blaming. The office is the nicest and most comfortable I have ever been to. Top of the line all the way! Thanks for the pleasant experience."
- Georgia C.

Services

Our practice offers a full array of dental services to help you maintain healthy teeth. Specific services include but are not limited to:
Bonding
Cosmetic Contouring
Crowns and Bridges
Specialty Dentures
Cosmetic Fillings
Implant Restorations
Veneers
Whitening
Sealants
Root Canal Therapy
Scaling and Root Planing
Dentures
Cosmetic Dentistry
Extractions
Specialist Referrals (as necessary)
Initial Oral Examination
Your initial oral examination includes a visual examination, charting, periodontal probing, diagnosis and treatment recommendations. Further examination may require x-rays. X-rays include a panoramic for proper diagnosis of the anterior (front) and posterior (back) teeth and a bite-wing series for proper diagnosis of proximal decay of posterior teeth.
Dental Implants
We will work with an implant specialist to create an implant for a missing single tooth, missing multiple teeth, or replace a removable appliance.
Crowns and Veneers
You can have a new smile with all-porcelain crowns or veneers (empressed material) on the anterior teeth. For the posterior teeth, we use porcelain fused to high noble metal (captek) or all-porcelain crowns (Empresse, Eris, or Lava materials).
Fillings

Tooth-colored restorations are shade matched to blend with your own distinct tooth color.
Root Canals
We perform root canals on anterior, premolar and molar teeth.
Periodontal Treatment
You should have a recare exam with an oral cancer screening, at least twice a year alone with a cleaning to maintain your oral health. If you have had a significant time lapse in your dental treatment, the doctor may recommend a periodontal treatment. The treatment may include a debridement or periodontal scaling and root planning (requires anesthestic for some people).
Removable Dental Prosthesis
To replace your multiple missing teeth, a partial or complete denture is fabricated by our highly trained lab to fit your individual needs. There are several types of denture materials (Valplast, Vitalium bar, Acrylic) that may be discussed with the doctor before the final fabrication.